Life is not easy when you are living in poor conditions, are constantly hungry and don't have the means to face torturous weather situations. Survival is all that the Syrians can think about, particularly amidst the extreme winter weather looming ahead. All over the world, the focus is on saving the people of Syria from the harsh winter conditions. When you donate blankets, warm clothing and other winter essentials, you ensure they make it through the winter months with ease.
Winter can quickly become deadly for the elderly, the young and the weak due to lack of resources. One way to ensure that the vulnerable ones survive the winters is by donating blankets, warm clothes, sending food packs, hygiene kits, clean water, and other essential winter provisions.
There are more than 5.6 million Syrian refugees across the region. Out of which, 2.1 million are children. 6.1 million people are displaced and living in their own country under challenging conditions as Internally Displaced Persons (IDPs). The numbers might seem intimidating to some. But there is nothing that can't be achieved by joining hands. The responsibility to care for the wellbeing of the vulnerable falls upon all of us.
UNHCR has estimated that almost 1.3 million refugees are in critical need of winter support to survive. Those affected by the Syrian conflict are facing different demons. Whether it is the refugees living in foreign lands or Syrians living as IDPs within their own country, each one is fighting a different battle for survival. In a region where 80 per cent of the population lives below the line of poverty, even as insignificant a thing as the warm soup is a novelty not many can afford!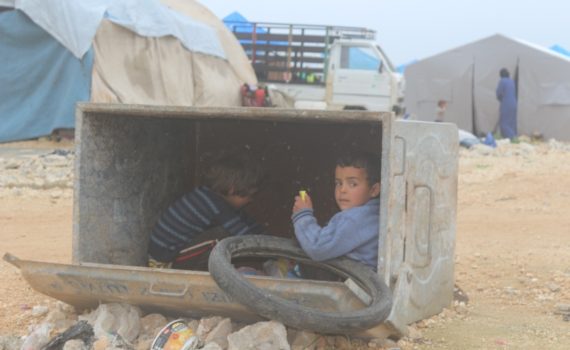 Problems Faced By Refugees and Besieged People
Those confined within the walls of besiegement need significant support! Insecurity has made it more difficult for humanitarian access to reach the IDPs and those under siege. Approximately 2.9 million people are confined in hard-to-reach areas where they have little to no access to humanitarian aid and supplies. Further worsening the situation.
The refugees are in no better condition, if not worst. Their fight for survival revolves around makeshift tents and depressing circumstances. Living in camps, these refugee families have to endure severe temperatures including rain and snow. Without the proper gear and resources, they don't stand any chance.
What is WATAN UK Doing?
Watan UK is among the few charity organisation present on the ground with all the support we could muster. Watan UK works in besieged areas like Eastern Damascus, Aleppo and Idlib to provide makeshift tents and fuel, among other necessities, to the troubled people of Syria. The donation packages work holistically to suit the donor's objective and budget. From £20 to £180, you can donate as per your convenience.
What Can You Do
Whether big or small.
Whether you donate blankets, heaters or simply your old or new warm clothes. Donate whatever you can to help the people of Syria survive this winter. If you have an extra pair of rain boots, windbreaker jackets, or anything else which could prove beneficial for these people, then please donate it urgently. At times like these, we must do whatever we can do to make life easier for those facing the harsh winter conditions without many resources. Together, is the only way forward!