70% Of The Population Of Idleb Need Urgent Humanitarian Assistance
Shelter Is The Biggest Concern
The humanitarian situation remains dire across Idleb that has taken the worst of 10 years of crisis in the country. Internally displaced people are living in squalid conditions due to harsh weather and lack of infrastructure. The conditions were further exacerbated by the winter.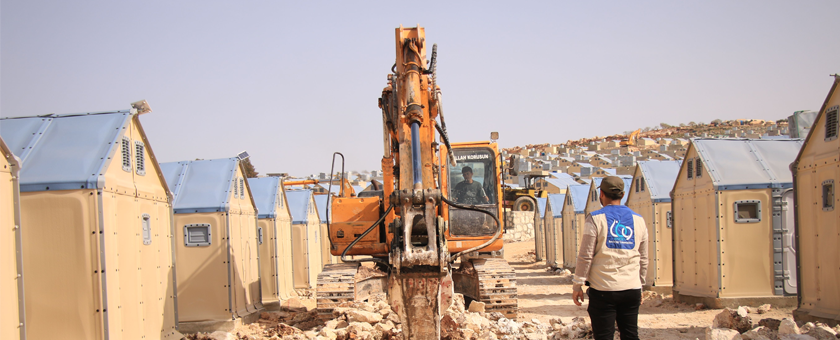 Vulnerabilities Beyond Measure
The Syrian economy has been in freefall since the beginning of 2020, making life more difficult for the people who were already suffering for the past 10 years. With thousands of IDPs that arrived at Kafr Jales and Areba camps due to recent displacement, providing better shelter has been a formidable challenge for humanitarian organisations. Temporary shelters were built to provide immediate shelter relief to displaced families. But unpredictably heavy rains of January destroyed 3,762 tents, leaving 122,953 people in need.
Your Response Is Critical
This Ramadan, WATAN UK is building two IDP sites in Kafr Jales, Idleb sub-district of Maaret Tamsrin, and Areba in Idleb sub-district of Harim, to provide them with an adequate living space where they could carry out their daily lives without having to compromise their dignity. We aim to provide them with all needed assistance in relocating to their new residence along with additional supplies such as food and sanitation packs so they could spend Ramadan in peace.
Let's Help Them Together
In times of a strenuous pandemic, it is essential to create and maintain conditions that comply with the health measures required to prevent the transmission of the Coronavirus. This is among the major reasons why their needs must be addressed immediately. Your support has been crucial in helping us provide shelter for displaced Syrians. Through our Shelter and Non-Food Aid Programme, you have helped 1,004,586 since 2011, and the number is growing. Here are some of the targets we aim to achieve to help IDPs in the region.
Completion of IDP sites in Kafr Jales and Areba
Relocating IDPs from flood-affected camps to the new sites
Replenishing food supplies of each family for the month of Ramadan
Providing family hygiene kits
Healthcare assistance (general, reproductive health, infant health, COVID-19 prevention and more)
Establish 4 new schools to provide formal education for 4,500 children and informal education for 720 children
Please respond to the cries of these displaced families with your love and generosity. Your Zakat and Sadaqah to them will surely bring eternal rewards for you, especially when they fast during the Holy month from the food you provide and the shelter you set up for them.
Give Where the Need is Greatest
£50 - Towards Medical equipments