Every night, nearly one billion people in the world go to bed hungry. Millions of people are too poor to be able to afford a healthy meal. While global movements have begun to address the issue of poverty, more efforts are needed to feed the poor.
Food Security is A Priority
Food security means to provide access to enough food to all people so everyone can have a healthy life. It is one of the major global problems of today. Fresh research data suggests that over 700 million people living in developing countries worldwide don't have access to food. The issue is more serious in underdeveloped regions where people are suffering from acute undernourishment. Food deprivation is tied to a lack of economic opportunities, unemployment and poverty.
Food is a big concern for the people living below the poverty line. The UN classifies the people as below poverty line who earn less than $1 per day. At such a low income, it is nearly impossible for them to afford a nutritional meal. A study carried out by the University of Bristol in 2015 suggested that severe food deprivation has caused severe loss of weight, low bone density and a whole spectrum of other health problems, especially in children and young people.
In response to the crisis, the United Nations General Assembly passed a set of 17 goals in the year 2000. The agenda is known as the "2030 Agenda for Sustainable Development" which aims to reduce poverty and hunger significantly by 2030. Since the agenda was brought forward, several nations, humanitarian organisations and the private industries have contributed towards the goal to end poverty. But still, a lot needs to be done.
In 2017, the State of Food Security and Nutrition in the World began monitoring one of the goals of the 2030 Agenda for Sustainable Development. The goal aims to achieve a world without food deprivation and malnourishment. Several innovative ideas have been brought forward to work on the achievement of the goals by 2030. Watan UK is playing its part in the global movement through its food security and livelihood programme.
Child Nutrition
Responding to child nutrition issue, Human Care launched its Children Nutrition project which aimed to help children and young people fulfil their nutritional requirement. Human Care carried out medical examinations on children in Syria. A significant number of children were affected by the lack of food caused due to the ongoing political conflicts in the country.
Human Care distributed children's nutrition packs in the areas where people were living in harsh conditions. Each nutrition pack constituted several vitamins, minerals and carbohydrates based on the needs of the children. We also distributed rice, soy protein, vegetable blends and essential oils.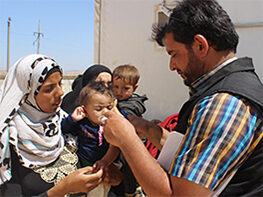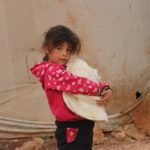 Flour Mills and Bakery
Flour is a staple component in the everyday diet. Reduced consumption of flour leads to a lack of dietary fibre and the calories needed to maintain a healthy weight. Human Care delivered freshly milled flour to the unprivileged families in Syria. We also opened our first 'Care Bakery' in Aleppo which distributed over 56,000 bread packs every month.
Food Baskets
The Syrian conflict has driven millions of people into poverty. After losing everything, thousands of families in Syria are now stuck in the endless cycle of poverty. Food is the prime concern for them as they have little to no means of income. Human Care addressed the issue with its food donation campaign for Syria. Thousands of generous donors contributed to feed the poor when the conflict escalated in 2016. We successfully distributed 390,532 food baskets to the needy families. 100,000 more were delivered to the besieged areas.
Human Care is currently campaigning to feed the poor and to provide them with better livelihood opportunities. We welcome donors from around the world who are looking to help feed the poor.